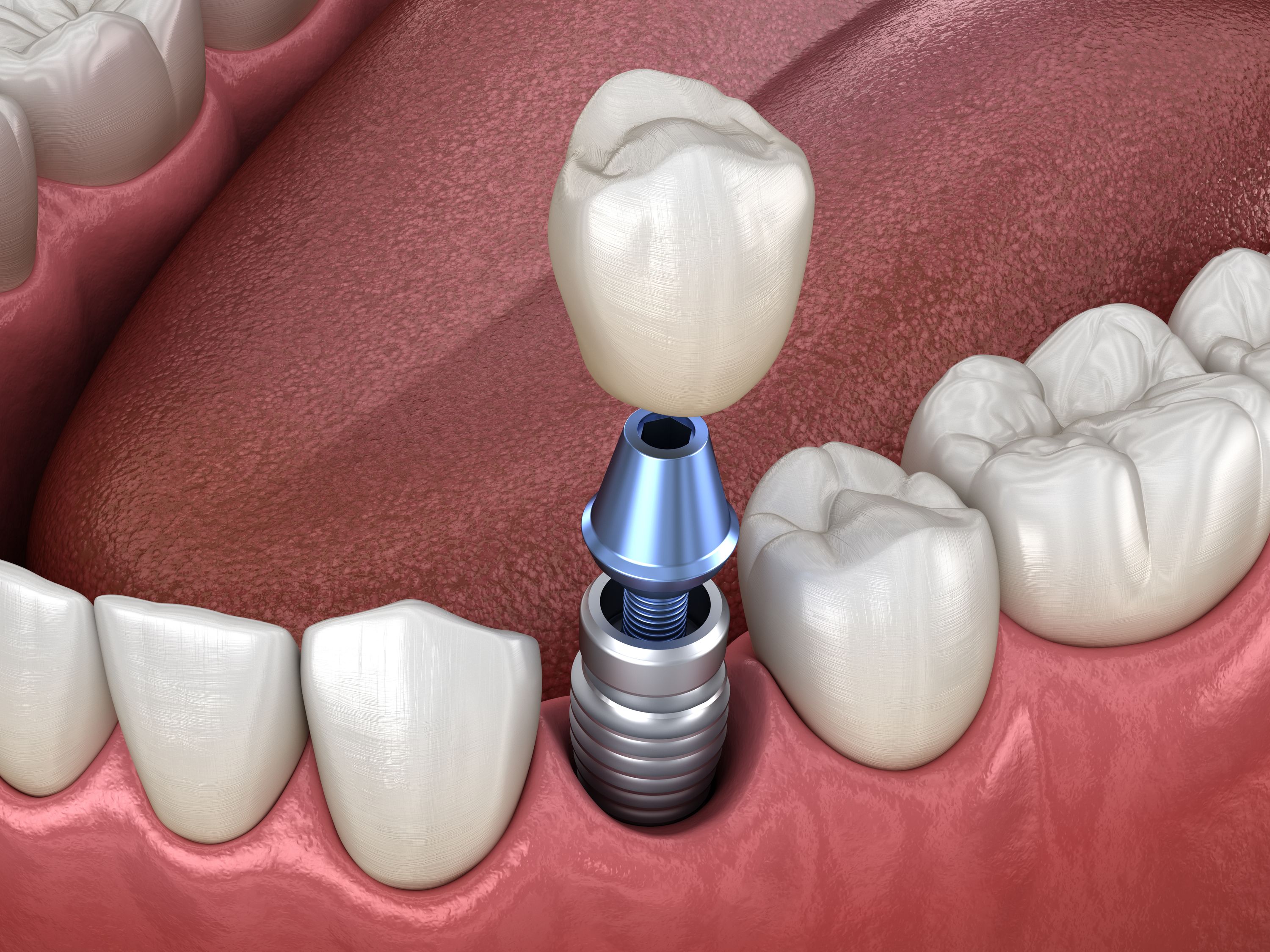 Dental Implants: Unrivaled in Stability and Support
Missing teeth can make common daily tasks, such as eating and speaking, frustrating and uncomfortable.
Dr. Dustin J. Hopkin is a dental implant specialist who can restore your smile by replacing badly damaged or missing teeth with dental implants.
So why should you visit our Salt Lake City, UT, office for implants?
Dental Implants Offer Lasting Stability
and Improved Oral Health
Lifelong Benefits
Dental implants are titanium posts that are surgically implanted into the jaw to replace missing tooth roots. With proper care, your implants can last 40 years or more, providing lasting support for your replacement teeth.
Improved Jaw Health
Without tooth roots to stimulate it, the jawbone begins to atrophy, or shrink, which can lead to further tooth loss and cause signs of aging. Implants are the only treatment which actively protects the jaw against shrinkage.
Restored Function
Using implants, Dr. Hopkin can improve both the appearance and function of your smile. With stable, custom implant-supported artificial teeth, you can eat, speak, and smile with confidence for years to come.
Ready to Replace Missing Teeth?
Schedule a Consultation at Our Dental Practice
Are you tired of covering your smile because of tooth loss? Dental implants are widely considered the best way to replace lost teeth. And with Dr. Hopkin, advanced dental implant care is within your reach.
Dr. Hopkin has received extensive dental implant training to give his Salt Lake City, Utah, patients beautiful and long-lasting results. In 2013, he received his diploma from the American Board of Oral and Maxillofacial Surgeons. To encourage patients from all over the state to experience his high standard of dental care, Dr. Hopkin and his team also offer a number of payment options, including CareCredit®.
Want to receive an estimate for your dental implant treatment? Request a consultation at our Salt Lake City practice by contacting us online or calling us:
(801) 277-3942
Take a look at how dental implants rebuild lost teeth...
What are Dental Implants?
Dental implants are titanium posts that are surgically implanted into the jaw to replace missing tooth roots. Unlike traditional restorations (such as crowns, bridges, or dentures) that only replace the crown of the tooth, these posts fuse with your jawbone in a process called osseointegration. Once this fusion is complete, an abutment (connection device) and custom restoration are attached to the implants to replace the crown of the tooth. The number of implants needed depends on the number of teeth missing. An implant is not always needed for every missing tooth. Your dentist can create a restoration that can replace an entire arch of missing teeth when Dr. Hopkin places just four to six implants.
There Is No Need to Feel Embarrassed If You Need Implants
The treatment can replace any number of teeth...
We Use Implant-Supported Restorations to Address:
A Single Missing Tooth
If you have lost a single tooth, Dr. Hopkin can place an individual implant, abutment, and dental crown for a complete smile.
Multiple Missing Teeth
Whether you have lost several teeth in a row or have gaps throughout your smile, implant-supported bridges or crowns can restore your oral function.
Tooth Loss on One or Both Arches
For patients who have lost all their teeth in either one or both jaws, Dr. Hopkin can use the All-on-4® technique to support a full denture.
Implants Can Also Replace Decayed or Damaged Teeth
If you need a tooth extraction, it is important to promptly replace removed teeth to maintain the health of your smile. At our Salt Lake City office, Dr. Hopkin can perform both the extraction and the implant procedure to rebuild your smile afterward. In some cases, we can place implants immediately after removing the affected teeth to stop the natural process of bone atrophy.
Converting Traditional Dentures Into Implant-Supported Dentures
If you wear conventional dentures, you've probably experienced some embarrassment or discomfort when they slip out of place or make smacking noises while you eat. In some cases, Dr. Hopkin can work with your dentist to convert your existing dentures into an implant-supported restoration.
To qualify for this treatment option, your dentures will need to be in excellent shape. During your consultation, Dr. Hopkin will thoroughly evaluate your case and recommend the best option. He can then work alongside your dentist to retrofit the restoration so that it looks and feels great with your new implants.
Are You a Good Candidate for Implants?
Bone Health
To give your implants a stable foundation, you will need to have healthy, sufficient jawbone tissue prior to surgery. If you are lacking bone density, Dr. Hopkin can recommend a dental procedure such as a bone graft or sinus lift.
Oral Health
Before receiving implant treatment, you will need to be free of dental health issues including gum disease and cavities. Dr. Hopkin can work with your dentist to coordinate the care you need to restore your health and prevent issues with your implants.
Overall Health
Because implants are placed during surgery at our Salt Lake City office, you will need to be in good overall health prior to your procedure. Along with reviewing your medical history, we will ask you to discontinue habits like smoking, which can lead to complications.
Worried about Discomfort?
Many patients neglect the dentistry they need because they are afraid of dental treatment. But Dr. Hopkin wants every patient to feel comfortable and relaxed during treatment, so he offers advanced sedation techniques at his Salt Lake City dental office. Our sedation options include minimally invasive local anesthesia, nitrous oxide, and intravenous (IV) sedation.
We Use the Latest Techniques & Tools to Ensure the Best Results
Dental implant treatment offers superior stability and health benefits over more traditional treatment options. Dental implants are extremely versatile and can support a single crown, bridge, or a full set of dentures with the All-on-4® dental implant treatment, depending on the patient's individual needs.
As a respected and trusted oral surgeon, Dr. Hopkin works with a number of dentists at his Salt Lake City office using state-of-the-art 3-D imaging equipment to ensure the best outcome for each individual patient. 3-D imaging technology allows him to create a detailed surgical plan that promotes precise implant placement. For faster results, Dr. Hopkin can also coordinate with your dentist to ensure you receive your restoration as soon as possible following your surgery.
Three Treatment Options
Available at Our Salt Lake City Office
Traditional Implants
Traditional dental implants are the most common option for replacing natural teeth. The treatment requires four to six months of recovery after surgery for sufficient fusion of the implant to the bone, but the benefits are well worth the wait.
Immediate Dental Implants
Immediate implants allow for the placement of the implants and the restoration in the same day. Dr. Hopkin works closely with the patient's regular dentist so that after he completes the implant placement, the primary dentist can attach the restoration.
All-on-4
Another option is called All-on-4, where Dr. Hopkin can place just four implants in each arch to support a full set of dentures. This treatment option is often called "Teeth in Day" since patients can come in to have their failing teeth removed and leave with an entire arch of beautiful new teeth.
Preparing for Dental Implant Treatment
Successful dental implant placement requires a great deal of planning. Dr. Hopkin must thoroughly examine your teeth, gums, and jawbone to determine the number of implants you will need and their optimal placement. Using 3-D imaging at our Salt Lake City, Utah, office, he will create a detailed surgical plan.
You can prepare for dental implant surgery by:
Following the pre-op instructions provided by our Salt Lake City, Utah, team
Taking the day off work, if necessary
Maintaining a healthy lifestyle, avoiding smoking, and controlling your blood sugar levels if you are diabetic
Surgery Is Typically Performed in Six Steps
Sedation
Dr. Hopkin will begin by numbing the treatment area with local anesthesia, preventing you from feeling any pain during the procedure. If you are nervous about treatment or have a particularly lengthy surgery ahead, he may recommend sedation dentistry. By administering nitrous oxide or IV sedation during surgery, Dr. Hopkin can help you relax.
Preparation
When appropriate, Dr. Hopkin can combine procedures at our Salt Lake City office. Under some circumstances, for example, he can extract a damaged tooth, perform a bone graft, and place the implant in a single appointment. This is often more beneficial to the patient, as it eliminates the need for multiple appointments.
Placement
Once the implant site is prepared. Dr. Hopkin will surgically place your dental implants into the jawbone. The length of your surgery will depend on how many implants you are receiving. Once the dental implants are in place, he will suture the gums.
Recovery
After surgery, you will return home to begin your recovery. Although the initial healing period only takes a few weeks, the osseointegration process can take three to six months. During this time, you will attend follow-up appointment to gauge your progress.
Abutments
Once the fusion is complete, abutments are attached to the ends of the implants to prepare for the final restoration. Abutments provide a connection between the implant posts and final restorations.
Final Restoration
Immediate dental implants and All-on-4 implants are typically placed and loaded on the same day and do not require the patient to wait for the lengthy osseointegration period. For patients with existing dentures, Dr. Hopkin can modify them to work with the implants. Otherwise, the patient's primary dentist works alongside Dr. Hopkin to provide the All-on-4 implant-supported denture.
Our Salt Lake City Dental Office Provides The Most Advanced Holistic Materials
Traditional dental implants are made using biocompatible, virtually indestructible titanium. We are proud to offer alternative materials including ceramic and zirconia. These materials are holistic in that they do not introduce metal to the body.
Reasons to Choose Holistic Materials
You Have Allergies
They can be ideal for patients who have allergies or sensitivity to titanium.
You Value Aesthetics
Because zirconia and ceramic are tooth-colored, they also provide a more natural-looking alternative to titanium dental implants. While some metal posts are visible through the restoration or gums, tooth-colored implants and abutments can create more natural-looking results.
You Want a Long-Lasting Solution
In general, implant materials are incredibly long-lasting. Some studies have shown that dental implants have a 95 percent success rate 40 to 50 years after placement. Although zirconia looks like natural dental tissue, the material is extremely strong.
Which Option Is Right for You?
During your consultation at our Salt Lake City, Utah, office, Dr. Hopkin will review all of your dental implant options with you to help you choose a material that fits your needs, budget, and concerns. In general, you can choose from three options:
Titanium Alloy
Titanium alloy is an advanced material used by NASA and many medical companies. The material is highly resistant to corrosion and incredibly long-lasting.
Ceramic
Because of its highly lifelike qualities, ceramic is used in many dental restorations. Using ceramic, Dr. Hopkin can closely match the color of your implants and abutments to the shade of your natural teeth.
Zirconia
Zirconia is a crystal material that is known for its metal-free characteristics and impressive strength. In fact, it is strong enough to withstand 750 times the average adult male's bite force.
Beginning Planning Your Treatment Today
Whether you currently have a traditional restoration such as dentures or you have one or more teeth you need extracted, dental implants are an excellent replacement option. We understand the importance of choosing an implant surgeon. Dr. Hopkin is an expert in dental implant planning and surgery.