Wisdom Tooth Removal: Prevent Oral Health Issues & Protect Your Smile
Do you suffer from persistent jaw pain, gum inflammation, or difficulty opening your mouth? Your wisdom teeth could be to blame.
At Hopkin Oral Surgery in Salt Lake City, UT, we perform all types of wisdom tooth removal to help you restore your oral health.
How can extracting your wisdom teeth improve your oral and overall health?
3 Reasons to Undergo Wisdom Teeth Removal Today
Get Relief
In some cases, an impacted or problematic wisdom tooth can cause painful symptoms like headaches, gum inflammation, and damage to surrounding teeth. By undergoing wisdom tooth removal at our Salt Lake City practice, you can get long-lasting relief.
Gain Confidence
Getting necessary dental care reduces your risk of embarrassing issues like gum disease, cavities, and bad breath. For patients suffering these side effects, wisdom teeth removal can restore pride in their smiles.
Save Your Smile
Undergoing wisdom tooth extraction now reduces the risk of misalignment or tooth damage, which would require more expensive and time-consuming dental care to repair in the future.
In a small jaw, erupting wisdom teeth can cause misalignment and many other health problems.
What Is a Wisdom Tooth?
Wisdom teeth is the common name for our third set of molars, which typically begin to erupt between the ages of 17 and 21. They come in at the very back of the mouth behind the existing molars, often causing painful, inflamed gums or misalignment of adjacent teeth. In some cases, wisdom teeth may even become impacted, or unable to erupt through the gums.
Who Needs Their Third Molars Removed?
Impacted Teeth
For some patients, the wisdom teeth never erupt, never cause any pain, and never need to be removed. Unfortunately, wisdom teeth are much more likely to develop at odd angles, leading to impaction or teeth that only partially erupt. Not only can this be quite painful, but it can lead to other complications.
Insufficient Space
Unfortunately, a big part of why wisdom teeth are so problematic is that many people's jaws are too small to accommodate them. As a result, erupting wisdom teeth can cause existing teeth to shift out of alignment. This shift can cause considerable discomfort and may even require orthodontic treatment to correct.
Partially Erupted Tooth
Partially erupted wisdom teeth create pockets of gum tissue that can collect bacteria and debris. Over time, this can lead to breath odor, periodontal infection, and even abcesses. To avoid these complications, most surgeons recommend removing the wisdom teeth before they begin to cause problems.
Worried That the Procedure Sounds Painful?
A Variety of Options for Anxious Patients
If you need more than one tooth extracted, our team typically recommends that you opt for sedation.
In addition to numbing the area with a local anesthetic, we can administer nitrous oxide or intravenous (IV) sedation to help you feel comfortable and relaxed during your visit. For Salt Lake City patients with a fear of the dentist, these forms of sedation are an especially good option.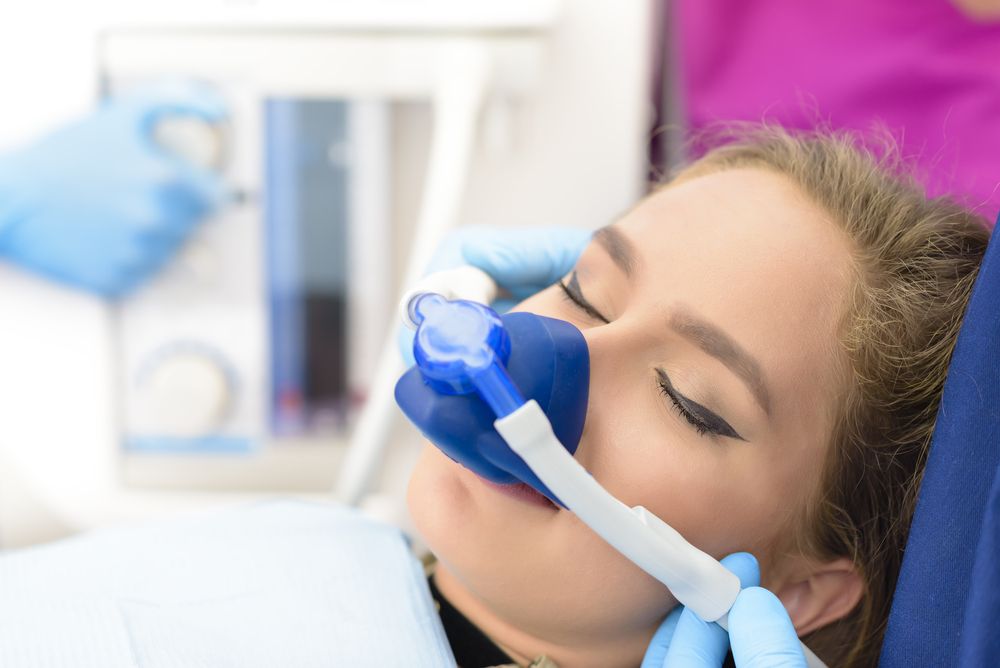 The Wisdom Tooth Removal Process
Wisdom teeth typically develop and erupt in our late teens and early 20s. For many patients, their development is painful and can lead to serious complications if not removed. Signs that your wisdom teeth are coming in may include pain in the back teeth or gums, or jaw pain. Dr. Dustin J. Hopkin can perform a wisdom tooth removal at his Salt Lake City oral surgery practice to alleviate discomfort and prevent potential oral health problems from developing.
For many patients, the development of wisdom teeth is painful and can lead to serious complications if not removed.
What to Expect during Surgery and Recovery
Surgery
To verify that the wisdom teeth have come in and require removal, Dr. Hopkin will review radiographs of your teeth and gums. These images will help him determine if any of the teeth are impacted. In some cases, patients may only need to have one or two teeth removed, while others require extraction of all four wisdom teeth. Typically when multiple teeth must be removed, general anesthesia is used to ensure your comfort during the procedure. During your consultation at our Salt Lake City office, Dr. Hopkin will discuss your sedation options with you and proceed with the one that is best suited for your circumstances.
To remove the wisdom teeth, Dr. Hopkin will create incisions at the back of the mouth. If any of the teeth are impacted, he will also remove the interfering bone. In many cases, wisdom teeth must be broken into pieces before extraction is possible. After all the teeth are removed, Dr. Hopkin will close the incisions with dissolvable sutures. These procedures are typically completed in 15-30 minutes.
Recovery
Most patients need at least three days to recover from surgery. Pain, swelling, and bruising are common side effects that many patients experience in the first few days following surgery. Dr. Hopkin can prescribe pain medication to help minimize your discomfort. Ice packs can also be used to help minimize swelling. You should consume only soft foods that are not too hot or too cold for the first couple of days. While we recommend smoothies or milkshakes, you should not drink them through a straw, as these can inhibit clotting and cause dry sockets.
Contact Hopkin Oral Surgery
To learn more about the wisdom tooth removal process or to schedule an appointment with Dr. Hopkin, call Hopkin Oral Surgery in Salt Lake City at (801) 277-3942 or contact our office online today. Dr. Hopkin can help determine if your wisdom teeth are causing other oral problems and require extraction.